We earn a commission for products purchased through some links in this article.
With everyone talking about of Kate and William's big day, we thought we'd look back at Prince Charles and Princess Diana's wedding in 1981...
We take a look back at Prince Charles and Princess Diana's beautiful wedding day on July 29th, 1981 – including some previously unseen snaps… Diana and her bridesmaids (and the Queen!)
A new set of pictures has given an insight into Charles and Diana's big day. Here, Diana is shown holding five-year-old bridesmaid Clementine Hambro as she stands with Charles' mother, Queen Elizabeth.
The intimate pictures were taken at the wedding reception at Buckingham Palace, and have been put on sale in the United States by a British woman who worked as an assistant to the official wedding photographer, Lord Patrick Lichfield. Experts expect that they will fetch at least £11,000 when they go to auction next month.
Image: RR Auctions Charles and Diana with the Queen Mother
The next image in the series of photographs shows Diana in the same grand reception room in the palace, but this time accompanied by the Queen Mother, Elizabeth Angela Marguerite Bowes-Lyon, and her new husband Charles.
The pair had just said their vows at St Paul's Catherdral in London, in front of a staggering 3,500 guests.
Image: RR Auctions Princess Diana before she steps onto Buckingham Palace balcony
The new princess prepares to take her first steps onto the famous Buckingham Palace balcony, where her future son Prince William would eventually greet the world with his new wife Kate in 2011.
The fairytale dress, which was designed by David and Elizabeth Emmanuel, was made of
ivory silk taffeta, decorated with lace, hand embroidery, sequins, and 10,000 pearls. The impressive train was estimated to be 25 foot long.
Image: RR Auctions Diana's gown is beautifully showcased in this picture of the couple greeting crowds outside the palace.
The pair made their traditional balcony appearance at 13:10pm on the day, and caused the crowd to erupt into cheers as they shared a kiss.
Image: RR Auctions The Queen watches the celebrations
Queen Elizabeth watches the celebrations in The Mall outside the palace on the television.
The wedding of Prince Charles to Lady Diana Spencer attracted a global TV audience of 750 million, making it the most popular programme ever broadcast.
Image: RR Auctions
Click through to see official images from the big day... On the way to the ceremony
Diana leaves Clarence House in a carriage on the way to her wedding at St Paul's Cathedral. Diana walks up the steps of St Paul's Cathedral and gets some help from the bridesmaids with her dress.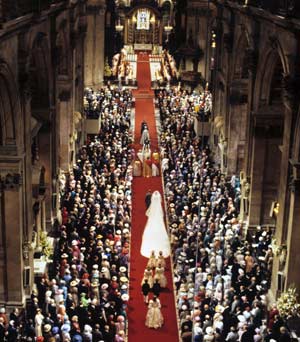 Diana walks down the massive aisle of St Paul's Cathedral surrounded by the 3,500 wedding guests. Diana and her proud father
Diana walks down the aisle with her father, Earl Spencer, as her guests look on. Can you spot Camilla in her white outfit looking on? This is an image
10
of
19
Charles and Diana's sign the register like any other couple. This is an image
11
of
19
The royal couple leave St Paul's Cathedral after their ceremony. This is an image
12
of
19
Diana's wedding gown and trailing white bouquet is in full view as she leaves St Paul's with Charles. This is an image
13
of
19
The pair wave at the masses who gathered for their big day as they ride in a carriage for their Royal Wedding procession. This is an image
14
of
19
A close up of Diana looking immaculate on her wedding day. This is an image
15
of
19
Fans of the Royal couple celebrate
A couple of girls dress up for the Royal Wedding - very appropriate! This is an image
16
of
19
Charles and Diana on the balcony of Buckingham Palace with the Queen, Prince Phillip, the Queen Mother and other members of the royal family. This is an image
17
of
19
Prince Charles and Di have their iconic balcony kiss in front of the whole world! This is an image
18
of
19
The crowds can't wait to see them!
Royal Wedding fans cheer on and wait to see the royal couple with their blankets - looks like they spent the night! This is an image
19
of
19
Prince Charles and Princess Diana leave for the first stage of their honeymoon. They caught a train to Romsey in Hampshire and stayed at Broadlands, the family home of Prince Phillip.