Summer's on its way, so what better excuse to start exercising? But if you're thinking about investing in a fitness band, how do you know which is right for you? We investigate the best fitness bands to buy!
They're the new buzzword in the fitness world and everyone from Gwyneth Paltrow to Barack Obama has been spotted wearing them, but what exactly are fitness bands? And what's the best fitness device for you? Here, we've answered a few of the most common questions about these nifty gadgets and even rounded up our favourites…
What are fitness bands?
Whether you wear them as a bracelet, a watch or even a small clip on your belt – fitness bands are wearable electronic monitors that track every move you make and send the results to your smart phone, tablet or desktop computer. They can range from the simplest pedometer (that counts your steps) to high tech devices that track everything from the quality of your sleep, to monitoring your pulse.

How do fitness bands work?
The most basic fitness bands contain an accelerometer that measures how many steps you take, by measuring your orientation and acceleration to see whether the device is horizontal or vertical and whether you're moving or sitting still. This information is usually sent via Bluetooth to an app on your phone or computer, where it is cleverly analysed to show how many steps you've taken that day.
By entering your height, age and weight into this app, it will also work out how calories you've burnt. You can make your results more specific by inputting the exact exercise you were doing if you've been out for a run or popped on an exercise DVD. More advanced bands can even monitor everything from the quality of sleep you had at night or warn you by buzzing when you've been sat still too long – they're pretty nifty!  
Why should I get a fitness band?
It's a way of getting to know you're body more personally and getting specific results tailored to your lifestyle. Most supporting apps allow you to enter in the food and drink you've eaten each day, or partner with weight loss apps like weight watchers, so you can see all your health and fitness results on one handy app.
You'll soon learn more about your body and the way it works – particularly for the third of your life that you spend asleep. They're a great way to motivate you to get moving – so no more couch potatoes allowed!
Are fitness bands too expensive?
There are a few expensive brands out there, but unless you want one that does everything under the sun, you'll be able to find a basic tracker that will suit your needs and not cost you a holiday.
Want to know which one is best for you? Here's our top picks… Click or tap to zoom into this image
Best fitness band for simplicity – Jawbone Up Move (£39)
This pebble shaped band has a six-month battery and comes in a variety of bright colours, so it can be easily disguised as a bracelet or clipped onto a belt like a classic pedometer. Like other bands, the Up Move tracks your daily steps and sleep, but the Jawbone Up Move app displays this information in a really simple graph. Scroll down and you'll find more in depth information and snippets of how you're doing compared to other Up users. It's the most visually beautiful and easy to use app we've tried.
Use with: Android and iPhone
Our rating: 4/5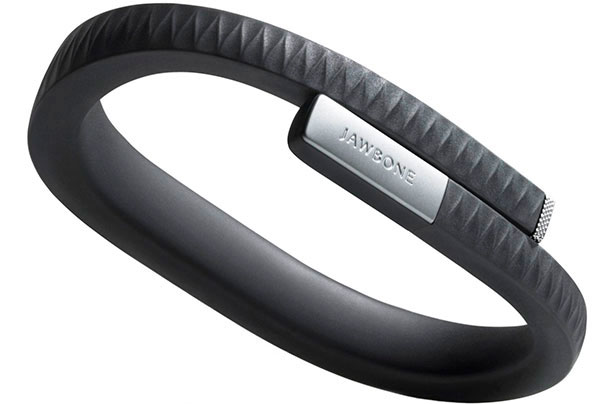 Click or tap to zoom into this image
Best fitness band for long battery life – Jawbone Up (£54.99)
There are a few bands that use a rechargeable battery out there, but we've found that the Jawbone Up can go the longest (up to ten days) without having to be charged. The Jawbone includes a pedometer and sleep tracker, that when connected to the Up App can also count your calories and tell you when the best time would be for you to wake up each day according to your daily movements.
Rather than using Bluetooth to sync the band with the Up App, the tracker plugs straight into your phone's earphone slot, which admittedly does make it a little more difficult to track your progress throughout the day. But it more than makes up for its cons in functionality with it's sleek design!

Use with: iPhone and Android
Our Rating: 4/5 Click or tap to zoom into this image
Best fitness band for life tracking – Sony SmartBand SWR10 (£80)
This light and comfortable to wear band is designed to pair with Android and Sony phones. It covers most of the functions that other fitness bands offer – it tracks movement through an accelerometer and offers options to count calories and track your sleep.
But the Sony SmartBand goes one step further by monitoring other aspects of life like your social media usage, time spent watching video and listening to music; so you can keep track of how you're spending your time each day and set goals if you want to make a change.
Use with: Sony/ Android phones – But your phone needs to be running on Android 4.4 KitKat or higher and requires Bluetooth 4.0
Our rating: 3/5 Click or tap to zoom into this image
Best fitness band for swimmers – Misfit Shine (£64.99)
This handy band is water resistant up to a depth of 50m, so it's a must have for keen swimmers. It can be worn anywhere on your person – it works as a necklace, clip or band, so there's plenty of style of options to suit your mood. In fact, the display actually doubles as a watch, so there's no need to wear multiple straps on your wrist.
In addition, the Misfit's battery is super long lasting and you can tell the app which activity you're doing (swimming, running and cycling are all options) so your results will be even more specific.
Use with: IOS, Android and Windows.
Our rating: 3/5 Click or tap to zoom into this image
Best budget fitness band – Activ8ourlives BuddyBand (£39.99)
If you're after a no thrills tracker for everyday movement, the BuddyBand is the one for you. One of the cheapest bands we've seen out there, the BuddyBand tracks basic exercises like running and walking and even lets you know how long you've been sat still for each day – so there's no excuse for being a couch potato! If you're after something cheaper that will help spur you on your fitness regime but don't want to commit to anything too fancy, this one's perfect.
Use with: iPhone 4S, iPad 3 or later and select Android 4.3 or above
Our rating: 4/5 Click or tap to zoom into this image
Best fitness band all-rounder – Fitbit Flex (£54.99)
Whether you're just starting out, or want something that tracks your whole workout, the Fitbit Flex has got it all covered. It's easy to set up and the app is simple. The band contains five tiny LED lights that light up in turn each time you've hit 2000 steps, so a quick press of the button and you can check how far you're getting towards your daily goal of 10000. Plus, if you're a member of Weight Watchers you can even link it to your account and track your diet progress along with your fitness on the Fitbit app.
Use with: PCs, Macs, IOS devices and some Android phones
Our rating: 5/5