The transition to married life can be a turbulent one – gone are the days of romantic evenings out and spontaneous gestures, and here are the days of falling asleep on the sofa at 9pm.
We all try various solutions to keep the spark alive, but one woman got so desperate that she emailed tech support – and their response is actually pretty genius!
The unnamed newlywed, who signs off her message as 'Desperate', sent over this clever plea, referring to her partner as 'Husband 1.0':
And a short while later, she was delighted to recieve a genuinely useful (and quite hilarious) reply!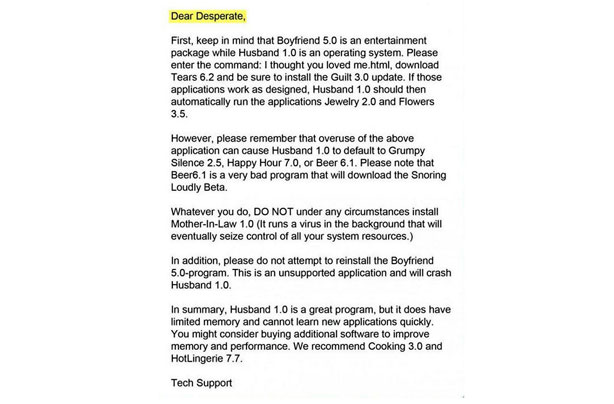 Images from Tickled
It's not known whether the images are a real exchange or a clever online joke, but either way, we'll be taking some tips from the clever chaps in the tech support centre. Now, if you'll excuse us, we're off to download Guilt 3.0…