John Torode's custard
Print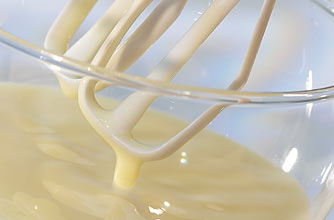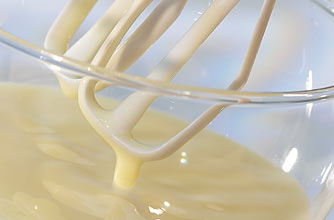 Serves: 8-10

Total time:

Skill level: Easy peasy

Costs: Cheap as chips
Fancy making your own custard at home? It'll taste so much better than the packet stuff. Let Masterchef judge and top chef, John Torode, show you how to make his favourite custard recipe. This easy custard recipe is perfect drizzled over classic rhubarb crumble, sticky toffee pudding or over your favourite chocolate brownie cake. This recipe serves 8-10 people and will take only 20 mins to prepare and cook. This delicious custard has a boozy twist, its made with brandy!
Ingredients
1 litre milk
8 egg yolks
120g vanilla sugar
40g cornflour
40g plain flour
125ml brandy

This will make just over a litre of custard. If you want to halve the recipe, do - but it is delicious cold and can be re-heated for use the next day. Plus it's easier to make in large quantities - and people always want more!
Method
To make the custard. Heat the milk in a saucepan until it just comes up to the boil, then take the pan off the heat immediately.
In a large heatproof bowl, beat together the egg yolks, vanilla sugar, cornflour and plain flour. Pour the hot milk slowly over the egg mixture, beating well.

Return the custard to the saucepan and place over a low heat, stirring for a few minutes until the mixture thickens. Stir in the brandy. Remove from the heat and set aside in a warm place.
Once cool enough, serve with your dessert of choice.
This recipe is taken from John Torode's Beef, available from Amazon, priced £12.
Your rating